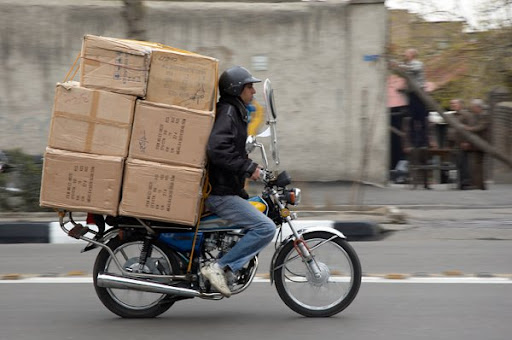 {via}
I am still in the thick of moving and I thought I would share a few of my tips with you, and then have you all share some with me, since I still have one move ahead of me.
I have moved to 6 different states in the last 10 years, and numerous times within states.  This frequent house hopping by no means makes me an expert – to be honest this latest move has been the hardest – but I have gained a few tried and true tips that have helped me along the way.
With some of my moves I have had the benefit of a moving company, but sometimes not, so these tips will include a little advice for both.
If using a moving company take all of the items you don't want them packing (undies, financial stuff), box yourself and set aside.  If you have things you are taking with you have them set in an area they won't get in the way.
Take the loose items in all of your drawers and put them in a zip lock to bag.  This works especially well for junk drawers.  Then label the bag and put it back in the drawer if you have a moving company.
Pack heavy items like books in small boxes, and lighter items like blankets and pillows in larger boxes.  While your packing keep in mind that your going to have to lift that box.
If you are looking for smaller boxes, the produce section of your grocery store usually has banana boxes which work great.
Pack clothes in suitcases, they are easier to lug around!
If you have the room and you move a lot, try keeping the boxes and the foam to your nicer items for moving.  They have all the necessary packaging to ensure nothing gets broken.
Keep a moving journal with all of the phone numbers you may need.  This includes all of the phone numbers to people you may need to contact for change of address, and moving company phone numbers.
In that journal keep a list of all your credit card companies, utilities, and bank accounts.  Have the phone number and account number with them for ease of switching everything.
When moving a long distance it may be tempting to throw out all of your condiments from the fridge, but let me tell ya, they are expensive to replace.  We always put ours in a cooler and replenished the ice daily on the drive.  Not once have we regretted it, but we have when we didn't!
Label your boxes well if packing yourself.  List the main items in the box and the room they go in.
Okay, now what advice do you have for me?  I have been a little spoiled with moving companies and this move has just about done me in!
Any tips on moving with kids and helping them with the transition?