I saw this skirt and instantly bookmarked it for inspiration, it was love at first sight.  I didn't need a currency converter to tell me it was a little out of my budget, but the one I made came from the scraps of this skirt, so it was well under $5.00 to make.  The skirt itself is super easy, just a rectangle with a drawstring waist basically.  I was using gauze, so when it came to the trim I had to do a little experimenting.  I will show you what worked best for me.  I also have a little tip with drawstrings for kids that you might like, I have used it a few times now and love it.  Let's get started!
Supplies:
all your sewing stuff
gauze, or any other fabric.  I used a scrap piece from my skirt, which measured 45″ by 26″.  So a little less than a yard of fabric cut off the bolt.
1 yard of ribbon
½ inch elastic
thread, you will want matching and contrasting for the same look as mine
tassels, beads, some kind of cute trim…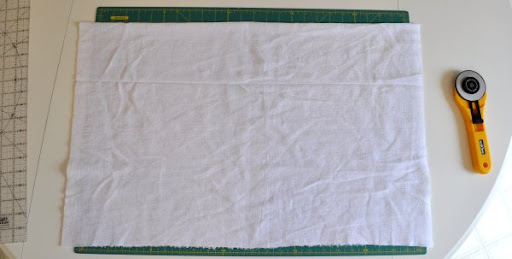 Start with your fabric folded selvage to selvage, cut into a long rectangle.  There is no science to the measurements here, I literally used what I had.  I would say you at least want your fabric to be twice the size of the waist.  My little girls waist came in at 20 inches and I had about 26 inches for both the front and back pieces.  All said and done after trimming and a ½ inch seam allowance it gave me a 48 inch circumference around the skirt hem.  Make sense?  Ask questions if not!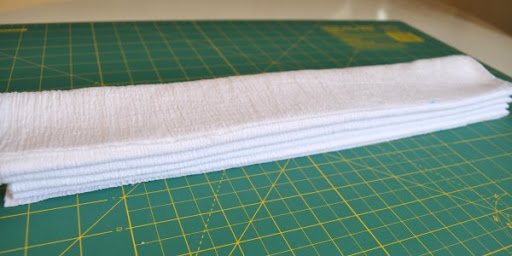 Now starting on a cut end make 3 inch accordion folds ending with the other cut end.
Now using whatever length you want, mine came in at 11 inches, cut off the folded end leaving a half circle.
You really can skip this step, but I think it gives a more tailored look if you angle in towards the waist a bit.  I took off five inches at the waist cutting a little off center on the end scallop.
The black arrow points to where I cut dead center in the scallop, which doesn't account for the seam, so I would cut where the red arrow points.  That way when you sew the front to the back you will have a nice scallop.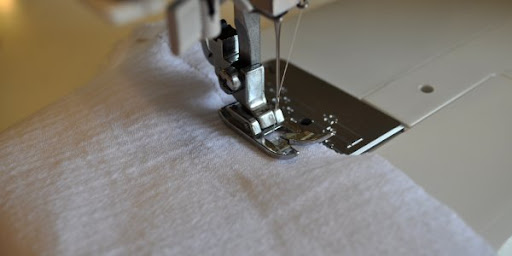 Now sew up your two pieces along the sides with a ½ inch seam.
With the wrong sides still out, make your casing at the top by folding over the raw edge just a little and press then turn it over ¾ of an inch and press again.  Sew it up along the inside fold as shown and leave a 1 inch opening to thread your drawstring.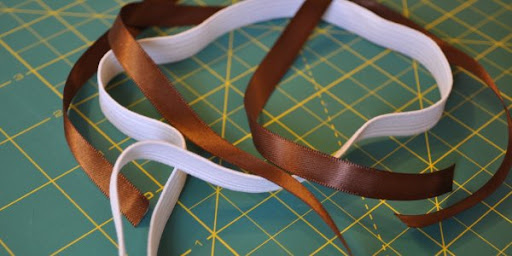 Here is the drawstring tip for you.  Cut a piece of elastic about half the waist measurement and cut the material you intended for the drawstring, in this case ribbon, in half.  I ran a little fray check over the ends of my ribbon.
Using a zigzag stitch sew one end of each ribbon piece to the ends of the elastic.  Now it won't cut off there middle when they bend over, this works great for adult clothing too.
For the trim on my drawstring I used this fun bead trim I found.  I bought tassels like the inspiration skirt had, but liked these better.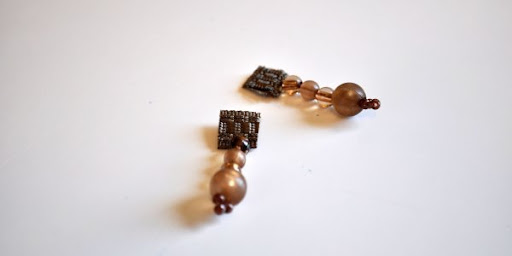 I just cut them like shown then wrapped the ends of the ribbon around them and with a needle and thread I did a whip stitch then wrapped and ran the needle back through every now and then to make sure it was on good and tight.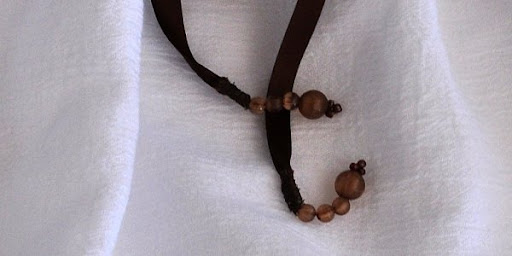 To finish it off I wrapped thread around and secured with a stitch knot.  Then I cut two little slots on the front of the skirt, on the casing and sealed them off with fray check.  Then pulled the drawstring through the 1 inch opening and then the ends through the two in the front.  If you are using woven cotton you can do button holes for the front slits.
Now we are to the scalloped hem.  There may be a better way to do this, but with the gauze it is the only way I could make it work.  If you are using a woven cotton you may just be able to do a rolling hem or a zigzag stitch.  If you know some secret, please dish but for now I will show you how I did it!
I took strips of the scrap gauze and placed them under the scallops.
I did a large but dense zigzag stitch (closest thing to a satin stitch that my machine had) around the entire hem line placing the strips as I went.  You will want to use a few strips and not one long one.  I then carefully cut around the hem line, cutting away the scraps on the inside and outside, then did a second round of zigzag.
I did cut a few stitches in the process but doing the second round of stitches fixed that up, so don't stress. It took awhile, I am not going to lie to you, but it wasn't hard.  Just a little time :)  I love the look it gave it, even more so than the inspiration skirt…so…flirty!
I didn't get a picture of it on yet, I was able to get it on her five minutes before her nap, and trust me she was in no mood for a photo shoot!  But I am making a shirt to go with it so I will be sure to get one then!
If you have any questions, ask away in the comments!