Pin It

It was a happy accident that led me to add an elasticized knit waistband to these pajama bottoms.  So glad too, because it was so easy, and I prefer the look over a gathered waistband.  Being a little wider and soft they are nice and comfy for little tummies, and allow for a more fitted ease through the hips.  Plus I was able to use an old knit shirt, and a cute little blanket I found for $3.00 at the thrift store.  Repurposing at its best!
I spotted this cute little flannel blanket at the thrift store, and thought it looked just Christmas-y enough for my little ones Christmas jammies, yet would carry well throughout the year.  And the trim!  No hemming and it's cute!  Wahoo!  Oh, and it's already pre-washed!  Remember think outside the box when looking for materials to sew with, it might just make your life a little easier :).
Didn't they turn out cute?  Probably my favorite project this Christmas.
The pajama top is from the pattern I have been working on.  Someone left a comment on how it would make great pajamas, which I had never thought of.  I just lengthened it a bit, and really you could lengthen it more for a nightgown.  I had just enough fabric to line the front, but had to do without lining the back.  I think I was able to fine tune the pattern, and hopefully I will have it for you soon, so excited!  So many possibilities with this one!
Now, onto my happy mistake that turned into my favorite waistband:
How To Make An Elasticized Waistband
Supplies: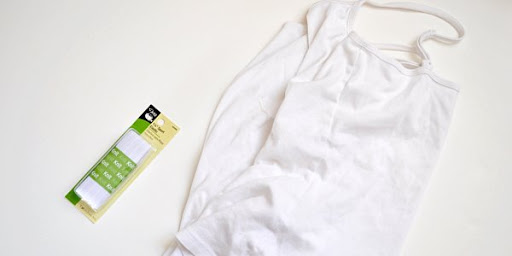 1 inch to 1 ¼ inch knit sport elastic
knit fabric (stretchy), I used an old shirt
all your sewing stuff
Measurements and Fabric Cuts:
Generally you want a little negative ease with a knit waistband, but you still want it comfortable.  I just wrapped the elastic around my little girls tummy without stretching, then marked and cut.  By the time you trim the ends and overlap at the end to secure that should give you just enough.
From the knit fabric cut a piece as long as the elastic and 3 times wider.
Sewing:
Lay the fabric piece on a flat surface, and then the elastic on top.  I used the bottom of an old shirt, so that is where the hemming is from.  You want the elastic to lay a half inch from the bottom like shown.
Now fold over the fabric to line up the top and bottom edges with the elastic inside.  I trimmed my edge just to make it nice and clean.  Now if you're really good you would pin, but if you're lazy like me….
You just hop on over to your sewing machine and sew it up.  Adjust your stitch length to be a little longer than you would normally use.  Not as long as a basting stitch, just right in between the two.  Sew right along the edge of the elastic, making sure not to sew the elastic.  Don't forget to back stitch.  Then secure the elastic by sewing a vertical stitch on each end.
There you have it, elastic covered in knit for your waistband sewing pleasure.  I did trim up the ends a bit to clean them up.
Now for the not so happy mistake…
I sewed it to the wrong side of the bottoms.  I may have taught my little guy a shiny new word when I realized what I had done.  I super duper back stitched too.  So just in case you are wondering how to avoid this…
How To Add A Knit Elastic Waistband
I used this tutorial for the bottoms, just using a nice fitting pair of my daughter's jeans  for my guide.  Like told in the tutorial I added a few inches at the top to fold over when adding a gathered waistband.  But I didn't take into account that I needed to add a couple inches at the waist for the gathered waistband.  Sheesh.  So basically, if I would have tried to add a gathered waistband the bottoms would cut into her middle, if I could have even got them on her!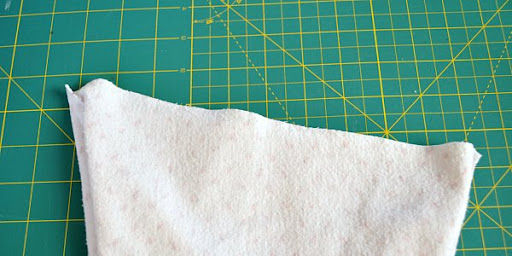 So using the same jeans as a guide, I set the bottoms lying flat on the side without folding, lined up the crotch and then cut the waist at an angle, with an extra inch for seam allowance when adding the elastic.  Don't cut it too low!  The waist should be two inches wider than the waist.
You want to cut it at an angle so that the back rise is about 1½ inches higher than the front like shown.
Now with the right side out, line the raw edge of the elastic with the raw edge of the waist, and one end of the elastic lined up with seam in the back.  Sew with a slightly longer stitch length again for a little give.  The waist should be about two inches bigger than the elastic – and assuming you cut the elastic to fit the waist – you will want to make sure you pull the elastic about two inches while sewing.
To finish off the elastic in the back, I just overlapped the ends about a ¼ inch and did a vertical zigzag stitch.  Sorry, I didn't get pics of that!
Now just zigzag or serge the raw edge on the inside and you're all done!
Easy peasy!  I am afraid I made it seem harder than it was, but really it was so easy.  And a great solution to my little mistake :).
Here they are in action on Christmas morning.
I guess I should make another pair to show you how to make the bottoms, since the measurements on the other tutorial wouldn't be quite right for this fit.  Would that be helpful?
I have another tutorial coming up with how to just do a simple sport elastic waistband too.  It is perfect for little boys, stay tuned…
Hope you are having a great weekend :)!