Ever since I posted the tutorial on how to make your own free printables using Picnik, I have received a dozen or so requests for a tutorial on how to make your own subway art.   I referred some of you to the original with a few tips, but it seems the problem everyone was having was in the printing :).  I had this ready for you last Monday, but decided I should have it printed to make sure all was well in that department – glad I did, because I had to make one little adjustment.   Then Cheri from I am Momma Hear Me Roar posted one last week, and I was even more enlightened, the things you learn by spending too much time on the computer I tell ya.  I almost just trashed this post and referred you to Cheri, but we do things just a little different.  Cheri's tutorial has some fun with textures, so make sure to check it out too.  Let's get started!
Creating Your Own Subway Art…Printables….Whatever!
I went over a few of these steps in the last tutorial, but to save you a click I will start again :).  Go to Picnic and set up an account if you don't already have one.  It is worth getting the upgraded version if you want to have some serious fun with your printables.  Okay, now click on library and then start and then on make a collage.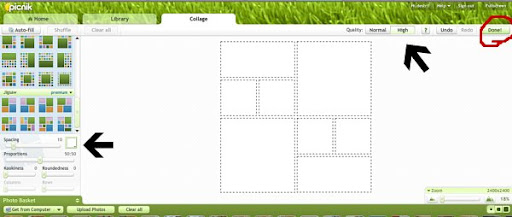 Now you should be on the collage frame.  Pick a collage, any collage, so long as it is a big one.  Then click on the little colored square next to spacing and pick a color, this will be your background.  I picked white.  Now in the upper tool bar you will see a button quality options.  Click on high.  Then click done.
Now for the resizing that everyone was having issues with.  I searched the forums for some time, and finally figured it out.  Make sure you are on the edit tab at the top and then click on resize.  Unclick keep proportions, and type in 1920 for the first frame, and 2400 for the second.  Then okay.  I printed 8×10 and 5×7 on these numbers and they both came out great.
Now for the funny part.  In the forums they even mentioned that having 8×10 and 5×7 options and such was on their to do list, but apparently I was reading an older thread.  Here is where Cheri comes in.  She shows if you click on crop, and then on the drop down it will have those listed!  All that time searching and they had that all along.  Sheesh.  I printed mine out at the other options because that is what I had it saved to, but there is that option as well!  They even have a twitter crop!  Let me know if you try it and how it works :).
Now for the fun part.  Click on the create tab at the top.  Now click on stickers.  If you scroll down you will find all the Valentines stickers.  Some may only be available if you have upgraded to the premium.  Now just have a party, or you could decide to add some text first…that's what I did.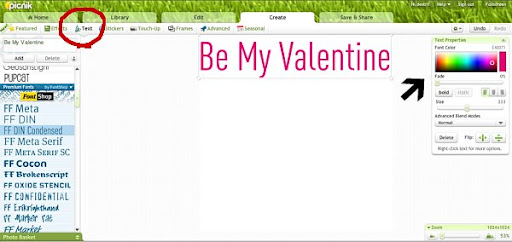 Click on the text tab, and get to typing!  You can change what color the text is, what font, and size.  This is where I had to go back and make my little adjustment.  Make sure your text is at least a half inch away from the side.  I was too close to the edge on the first print and when I framed it, some of the text was covered up.  So I had to go back in and adjust.  Oh, but that is good for you to know!  If you need to adjust an already saved item, just go to the history tab under library and you can change whatever you need :).  Then just re-save.
You can rotate text by clicking and dragging the little circle at the top too.
After I had a little text, I went and added a peace sign, cause that always goes with love, no?  You can go back and forth between the text and stickers, just click on the tabs at the top.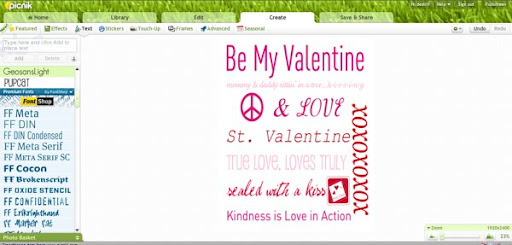 Okay, so now I am happy with it.  You can see this version is back off the edges, on all sides.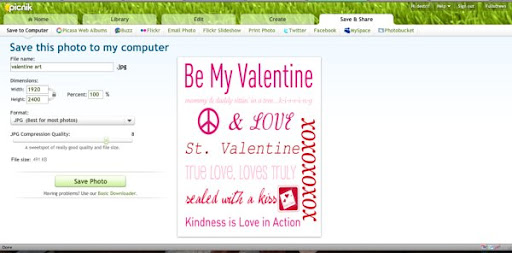 Now click on save and share at the top, and save where you like.  I saved to my computer, hopped on over to Walmart.com and ordered my prints.  Thirty minutes later I was down there picking them up, easy peasy.
I will have the ones I made available to print later, once I figure out how to make the huge file available….any suggestions?
If you make some fun ones, let me know and when I make mine available to print, I can link to yours!
Also, thanks to all of you who shared a recipe for our soup swap!  I decided it would make more sense to link up tomorrow on Maria's Kitchen, so stay tuned!