Pin It

Last year about this time I was thinking about making an advent calendar, and by December 2nd I was bummed I didn't.  So I promised myself I would make one this year.  Me and the kiddos are leaving on a jet plane and won't get home until December 1st, and so I needed to get this finished before we left.
I love how it turned out!  It was even fun to make.  Sewing the sacks actually took the least amount of time, they sew up fast with just a few straight stitches.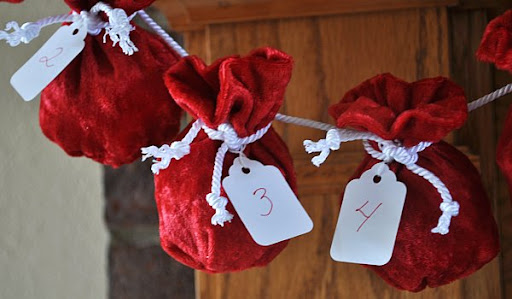 It took three days, about an hour and half each night.  Not too bad, eh?  By night three my husband was eying me curiously, asking what could be taking so much time, and I simply told him I was investing in our family's memories.  He may or may not have rolled his eyes…
They could be used for so many things, like a gift card holder, or treat bags for party favors.  You could even whip one up and give it to your honey with a note that says, "insert glittery sparkly pretty thing here".  Subtle hints….
How To Make Cute Tiny Santa Sacks
Supplies and Fabric:
all your sewing stuff
2 yards of velvety fabric, or scraps if you are just making one
30 feet white cord
Fabric Cuts:
You will need to cut out twenty four 8 in x 7 inch pieces.  For the tie you will need twenty four 9 inch pieces.
Sewing ~ I used about a 1/4 seam allowance throughout and always back stitched except in one spot, I will show you where.  I did not serge any edges, as my fabric didn't fray.
Here is our 8 x 7 inch piece.
Fold over an 8 inch side 1¼ inch.
Using a straight stitch sew the fold like shown.
Now fold in half like shown with fold on top.
Sew down side.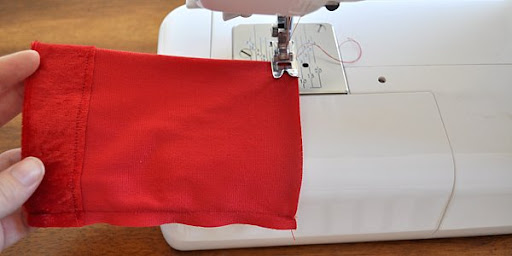 Now sew up the bottom using a basting stitch (longest stitch on your machine) and only back stitch at the end.  You want to leave one side without a back stitch so you can gather the bottom.  Make sure you leave a good thread length on the side you will be pulling.  I did end up turning the side seam over to the center before I sewed the bottom, it just made for a rounder bottom.
Now just gather up the bottom and tie the loose ends in a knot.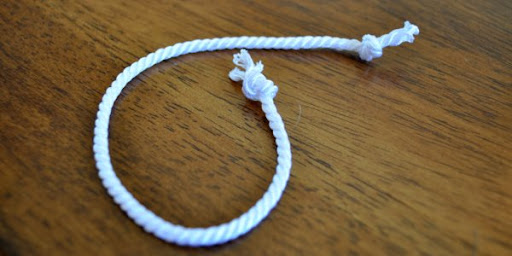 Tie the ends of your cord like so, I did this while I cut to make sure it didn't unravel.
Center the cord on the side seam on the back and sew on with a needle and thread.
All done!
Now just stuff and fluff it, and tie it up.  I put a little tissue in each of mine to fill out the shape and then put a little treat in there too.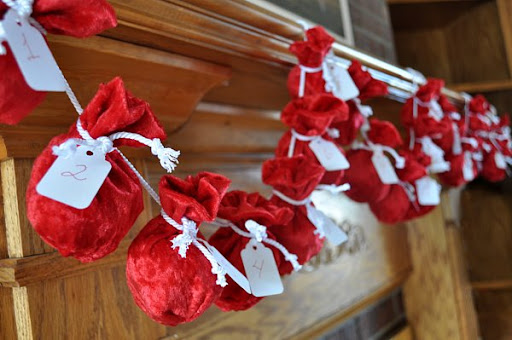 I hung them using the same cord by weaving it through the back of the ties.  I just wish all my Christmas stuff was all up to get the full affect…all in good time!  I will have to add a picture when I get it up.
So there you have it.  Little Santa sacks that fit in the palm of your hand.  Perfect for all sorts of little treasures!