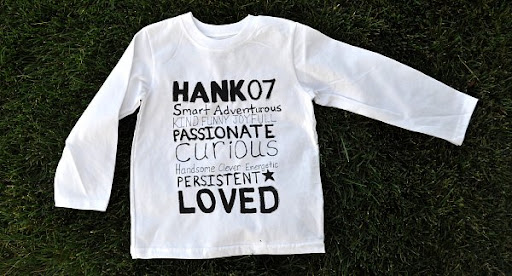 This project is part of the Boutique Style For Less Challenge, for more information click here.  I would love for you to join!  You can find all the projects for the series HERE.
Okay, again so excited about this one!  You have no doubt seen all the fun subway art projects around and filling magazines.  At first I didn't know if I was a fan, but just like everything else, it has grown on me.  I think the best part is you can personalize it rather than just buying one with generic sayings.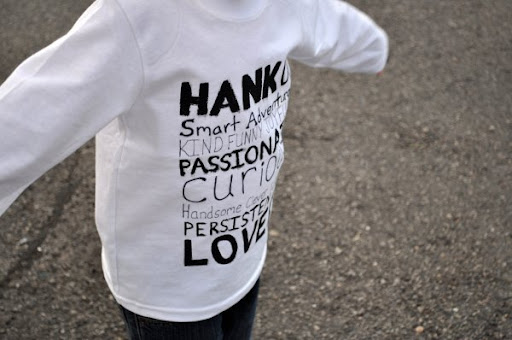 When I first started thinking about this challenge I knew I wanted to do a subway art t-shirt with words that describe my son.  Traits that at times drive me insane, but I know will serve him well as an adult.  I have to tell myself daily "this persistence of his, it will pay off one day".
I originally was going to use vinyl and do a heat press treatment, but realized that didn't fit in with the theme at all.  Plus I wanted it to look a little more on the rustic side.  So I decided hand painted was the way to go.  After the first line I realized I wasn't going to get the look I wanted with paint alone, so I dug out the sharpies.  I love how it turned out!  No sewing, no stencils, and only took thirty minutes!  Here is the how-to:
Subway Art T-Shirt
Supplies:
shirt
fabric paint, or acrylic paint
fabric markers or sharpies (I used a fine tip and a wider one)
paint brushes
I started on paper writing down all the words I wanted to use, and then putting them in the order and size they would work.  It took five sheets of paper to get to this one.
Then I placed the paper inside the shirt and aligned it so the words were where I wanted them.  This acted as a guide only.  I could see through the shirt to make sure I was on the right track.
I started with the paint and brush, making his name bold with the year he was born.  I used shiny acrylic paint, because I knew it would last longer, and achieve the look I was going for.  Fabric paint will last longer, but I figure Hank will grow out of this before I have to worry about it.
Every now and then I lifted up the shirt a little to look at my paper and make sure I was on the right track.  There were a couple of times that I had to rearrange words to make them fit.  I added a star where the word didn't stretch all the way to the end in one spot, just do what you have to to make it work.  And realize, it will not be perfect, and usually the harder you try to make it so, the more mistakes you will make.
I made some lines all uppercase and small, some all lowercase and big, just have fun with it.  There may have been one instance that I spelled a word wrong, and in that instance I may have used white acrylic paint to fix it.   After the paint dried I touched it up a bit to make the lines more crisp.
Did I mention how much I love this shirt?  Oh I do.  It was so fun to work on a more personal project for Hank, and he loves it.
It goes great with the guitar applique pants I made (tutorial here), and the denim jacket we picked up at Target for $14.00.  The shirt itself cost me $3.50 at Walmart, and I would say buy a size bigger than you think you will need.
Have you been working on things for the Challenge?  No excuses ladies, this is an easy one!  I have had so much fun with this, am thinking I need to extend it a week, and then I remember I am moving.  Hmmm.
I can't wait to see what you come up with!  I think it would be awesome if someone with a vinyl cutter tried this with vinyl, just sayin'.
Okay two outfits down, more coming!  I have a belt coming up…sooo cute….errr, I mean cool!
Talk soon!
~Desrti