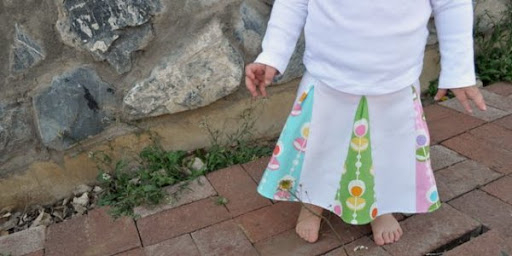 So, today's post is funny in that it didn't quite turn out the way I had wanted it to.  You see it was supposed to be a dress for my little girl.  But I learned a valuable lesson – always account for your baby's cute little pot belly.  Other wise all your projects will turn out to be skirts.  There ya have it.
It wasn't a total loss though, it turned out to be an adorable skirt.  Now I just need to embellish a shirt to match it!
So I thought today I would share how to use a pillow case to make a skirt with peek-a-boo panels.  These panels are perfect for using up those scraps you can't bare to part with, cause they are so cute.  I found the white pillow case for 10 cents at a thrift store and the scraps out of my sisters scrap box.  I happen to be the luckiest girl when it comes to scraps you see.  She has an awesome scrap box.  So here's the how-to:
Peek-A-Boo Panels
I am not going to give a supplies list because it will all depend on what your making.  Rather show you the technique, and my end result.  But I will show you what I started with.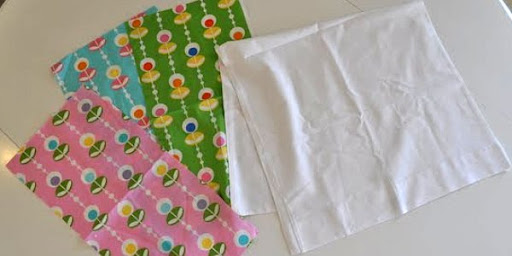 I used a standard white pillow case and three pieces of scrap fabric measuring 7 inch x 18 inch, and then cut them to give me six 5 inch x 9 inch pieces.  But don't get hung up on those numbers, they will vary according to what you've got and what you want to end up with!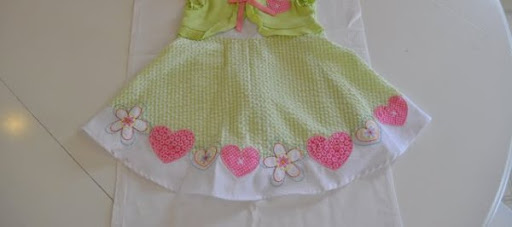 The goal here was to make a twirly skirt, but I knew that the pillow case alone would not be wide enough along the bottom.  So I took a dress and layed it over the pillow case to give me an idea of how many panels to add.  I settled on six.  You may want more or less.  Just play around with it!
I cut the shape I wanted out of the pillow case giving me two panels, front and back.  Then I cut slightly angled cuts as shown, ½  inch longer than my panels.
I layered my pieces on top of each other in the order they would go in the skirt, just to make things easy.
Stacked on top of each other I cut the panels on an angle leaving an inch at the top.  Use your cutting board for a guide, if you don't have one, it's okay…just wing it.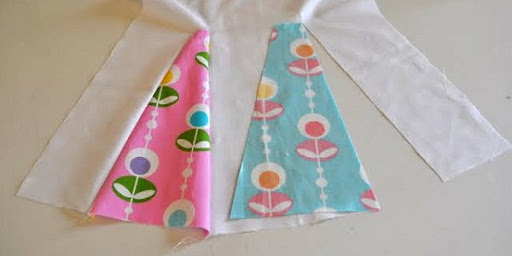 I had already done a panel, but to get things started lay the main body of your skirt down right side up.  Then lay the panel down right sides together so that it lines up like shown. The end of the panel should meet the bottom of the skirt, leaving the extra half inch at the top.
Now just sew a straight stitch down the panel.  Make sure to back stitch.  I don't know why I feel the need to remind you to do that, but just in case…
Now lay your skirt down again and pull the skirt over the panel you have just sewn to line up the other side like shown.  This to me was the easiest way to do it.  Then sew, and repeat with all the panels.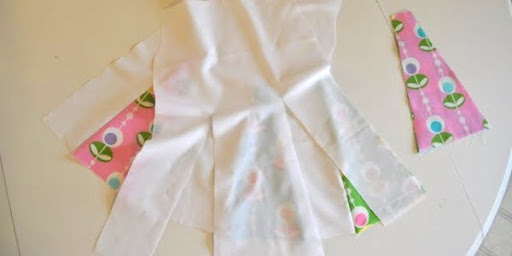 When you have all the panels in the front piece finished, lay the second piece over the last panel of the first like shown.  This will connect the front and back.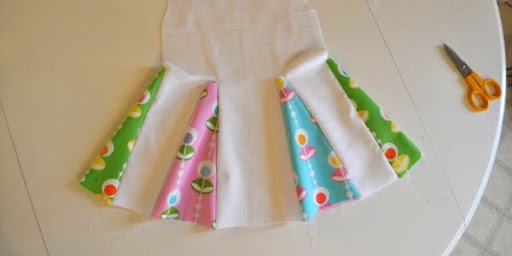 Now just repeat those steps until you have a skirt.
Now just sew up the top of the panels by lining them up and sewing an inch past the cut, ensuring that things are all sealed up.
You will keep the angle from the panel so that the stitch eventually comes to the edge of the skirt…does that make sense?  It will when you're doing it!
The top of your panels will probably look like this, if they don't, you're awesome.  But if they do…
just sew right over that part using your smallest zigzag setting.  Just a little stitch, back stitching a few times.  It actually ends up being a nice little touch.
Now just hem up the bottom!  I did a zigzag stitch along the bottom and then folded the edge under and did a top stitch.  But I think a rolled hem would be great.  I used this technique for the waistband without the gather, after I cut off the top that was supposed to be the dress.
I have to tell you. I did get the dress on her, but the poor thing looked like a pregnant mermaid!  I know I'm horrible, but it was so cute!
Now that I have figured this out, I think I will make me one.  This technique would be great for a little girls top too don't you think?