Hello friends! It feels like it has been ages since we last talked.  We made it to Utah in a snow storm and today the temps are supposed to be in the 70's – it's feeling all sorts of springy out there. Blossoms are popping up on the trees, the tulips at my moms have broke through the ground, and the specials for spring skiing are everywhere, wahoo! So this is the second spring I have enjoyed, we had ours about a month ago in the south.
This kind of weather always has me ready to bring out my skirts, I love them.  Especially in the humid summer months.  So I was digging through my clothes here in Utah to take some back home to Texas with me, and I found this fun gauze skirt I made a couple years ago.  I tried it on and remembered how much I loved the fit of it.  In the tutorial I use gauze, but really you could use any fabric as long as you cut it on the bias (so there is a little stretch).   The great thing about this project is that it requires no zipper, no buttons, and possibly no elastic depending on your body type.  Super quick and easy.  Plus it is my favorite shape – flat in the front, little snug through the hips, and not so much poof that I look like I am wearing a tent with a drawstring!
Catch me after the jump for the full tutorial!
Easy A-Line Skirt with Sash Tutorial
Fabric Requirements:
2 yards of gauze ~ I paid $4.99 a yard
2 yards of a lightweight woven cotton that has a little stretch when pulled on the bias ~ I paid $1.99 a yard
Supplies:
All your sewing stuff
Matching thread
1/4″ to 1/8″ elastic, you may not need this
Marking pen, should be washable but you can get away with a regular one
Measurements:
Mark 1 ~ Your favorite hem length, you can measure a skirt you have or here are a few – 19 inches is generally just above the knee, 22½ just below the knee, 26 inches brushes mid calf.  Add an inch for seam allowance.
Mark 2 ~ You waist size – plus an inch – divided by four
Mark 3 ~ Double mark 2 measurement.  You can do more than that for more swing.
Start by leaving your fabric folded selvage to selvage then fold in half again, making the cut ends meet.  Cut the ends to make sure they are straight if they are not already.  Ignore the extra inch I am showing on my hem line, I came to my senses in a couple steps!
Your first mark is the length of the skirt.  It will be on the folds.  In my case I marked 22 inches from the hem line.
Your second mark is the waist.  Mine came to 8 inches.  My waist, 31 inches plus an inch makes 32, divided by 4 equals 8.  With a ruler make a straight line from mark 1 and make your second mark.  It is okay if there is a little angle to it, you can straighten it later, just do your best.
Your third mark will be from the fold to your desired hem width.  I doubled my mark 2 making 16, but if you want more swing you can add more inches!
Now cut from mark 1 to mark 2, and mark 2 to mark 3. This is your skirt body.
Next take the 2 yards of cotton and unfold to one big sheet, fold in half cut end to cut end, then fold in half again so that it is on the bias.  It should look something like a triangle.  Lay your skirt body on top with the folded edges lined up as shown.  Cut out you lining using your skirt body as a guide.
Now you have four pieces, leave them folded for the next step.
Make a mark about a third from the folds and one 2 ½ inches from the hemline on the cut edge.  Making an arch cut from mark to mark, cutting off the corner like shown.  This doesn't have to be exact, you just want to round off the bottom a bit.
Now unfold and sew your gauze pieces together up both sides with a ½ inch seam allowance and a straight stitch, then do the same with your liner.  Serge or zigzag the edges.  Now try on both pieces.  They should pull up over your hips with a little tug, and remember that gauze stretches, so you want it snug.  If you can't get them on just cut a little off the top till it fits.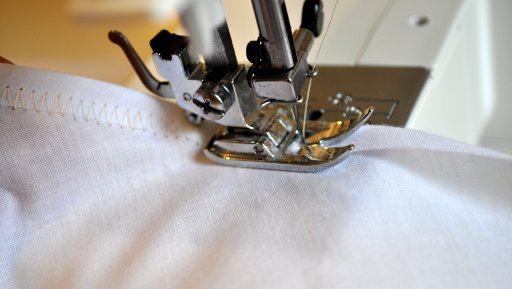 Now hem your bottom.  You can do your favorite hem, a rolled hem would look great.  I just turned my liner up a 1/2 inch and did a zigzag as shown in the picture. On my skirt I folded it over ¼ inch twice and did a straight stitch.  If you pull gently on the gauze it will make a slightly scalloped look for the edge.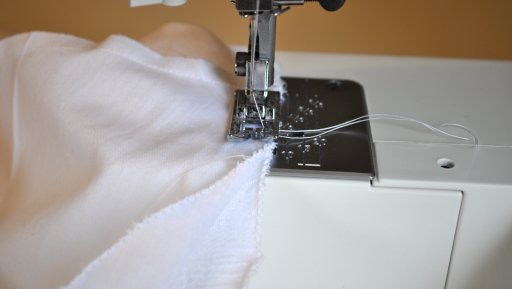 Now tuck your skirt into your liner with the right sides together.  If the top curves a little go ahead and trim now to make it straight.  Line the tops up and sew the two pieces together using a straight stitch and ½ seam allowance.  Serge or zigzag the edge.
Now unfold with right sides out and press the seam lightly.  This will give you a cleaner edge for the next step.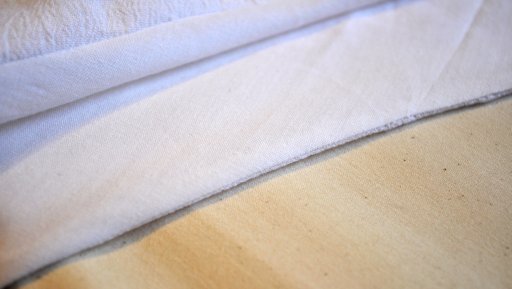 Now fold your liner into the skirt and press the top edge.  At this point try on the skirt again.  I didn't need elastic but for the sake of the tutorial I am adding one to show you a way to do it.  If it fits nice the way it is do a top stitch using a longer stitch length along the top, then cut out your sash and your done!  If there is a little pucker cut a piece of the elastic measuring 3 inches smaller than half your waist size.  In my case it was about 12 inches.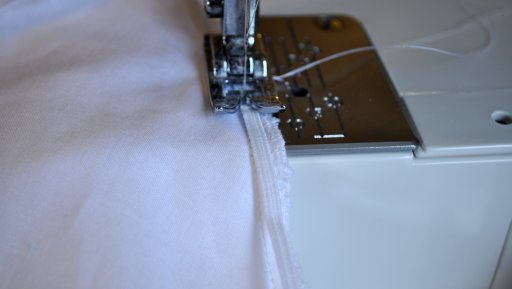 This is the "my kids are going to be awake in five minutes" way to put in an elastic.  Just turn your skirt inside out with you skirt turned into the liner, then lay the elastic right on the seam and sew.  Back stitch a couple times for the first half inch.  Now pull the elastic about three inches and sew it to the seam.  When you get to the end make sure to back stitch again. This will make it gather!  You can do this the traditional way with a casing if you would like.
Now turn it right side out again with the liner tucked into the skirt and you will top stitch around the perimeter of the waist.  Using a longer stitch length start at the back of your skirt on the elastic.  Pull it so that it is fully stretched and stitch as shown.  When you get off of the elastic do not stretch the fabric!
For the sash I cut ten inches the full length of my two yards of gauze, then angled the ends as shown on the picture.  You can stitch around to finish off the edge, but I think a little fray would be fun, so I left mine.  You're done!
Wear it with a flower…
…or nothing.  It has a nice flat front so it looks great under snug shirts…no bulge.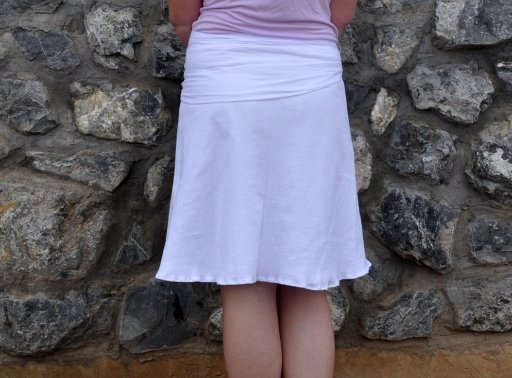 This is the back, I should have taken a picture of the back without the sash, it fits just as nicely as the front.
Like I said you could make this with any woven (even knit? haven't tried yet :)), just make sure it has a nice drape to it.
Hope everyone has a great weekend I am off to the ski slopes for a little spring skiing!
~Destri