This post is part of the Boutique Challenge.  You will find all the projects from the series HERE.
Oh you guys, why oh why has it taken me so long to do projects for my little guy?!  It is so fun!  Seriously, I am having so much fun with his new fall/winter wardrobe for this challenge that I have barely thought of my little girls!  Have you been making anything?  Someone left me a link to their gap styled jeans…super cute.
So this belt.  I am crushing on it big time.  It took 15 minutes to make and it goes perfect with everything else I am making.  Have you been to your local scrapbook store?  I myself am not a scrapper, but I popped into a store last week and found this ribbon.
I bought it knowing exactly what to do with it.  And now I want to use it on everything!  Amazon has five at $2.54 and it is all I have not to snatch up every one of them.  But I will give you a shot.  If they do sell out you can just google it and there are all sorts of places to buy it.  Anywhoo, back to the scrapbook store.  Who knew you could find so many fun things there?!  If you haven't checked one out, run!  Now onto the belt…so easy!
DIY Ruler Belt For Boys
Supplies:
Tim Holtz ribbon ruler (you can just google that and find it)
material for belt, I bought a yard of ribbon belting, am hoping that is what it is called!
matching heavy duty thread
sewing stuff
two D rings
As you can see here, I made sure my thread matched the threading in the ribbon.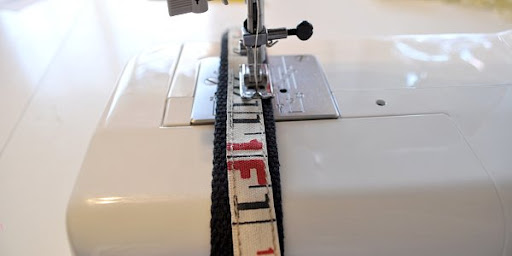 Then sew the ribbon to the belting along each side, right over the existing stitches.
Slide the D rings onto one end of the belt and fold over end.  Secure with a zigzag stitch.
Then put it on the waist your making it for and size it up.  At the point you will be cutting it do a zigzag first, then cut.  That way it doesn't unravel on you.  You're done!  So easy!
I just found out it will be about a month before I move now, and I am having too much fun with this challenge.  So maybe we should add a week?  And then maybe we will have two link parties?  I guess we shall see how the first one goes 'eh.