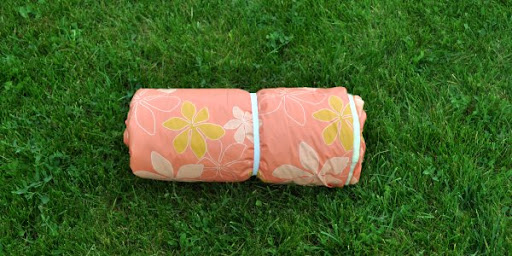 It's officially park weather…hooray!   I have mentioned that I like to get to the park in the morning before the crowd shows up and before the slides get too hot for little tushes.  But there is one drawback.  The grass is always on the damp side, so I whipped up a waterproof park blanket to keep our britches from getting soggy.  This  would work great for a beach blanket too, the sand wouldn't stick to the bottom.
I was originally going to buy oilcloth or tablecloth material at the fabric store, but then I ran across a weather-proof tablecloth for $4 at big-mart.  It already had a finished edge and it was the perfect size for my blanket, plus it was a cute print, and cheap!
The other thing I knew I wanted was a key clasp.  When we go to baseball games or to the park in the car, I only take my keys with a few bucks in my pocket.  It never fails, I always lose my keys in the grass.  Every. Single. Time.  I would put them in my pocket, but that is not too comfy, so this solved my problem!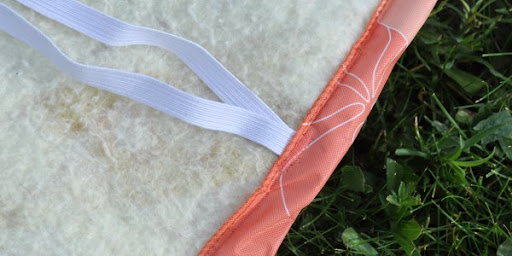 The last thing I added was an elastic strap so when I roll it up I can secure it.  You could even add handles to carry it.  Shall we get started?
Making a Waterproof Park or Beach Blanket
Supplies:
all your sewing stuff
¾ inch to 1 inch elastic
metal clasp
blanket (I used one I already had)
waterproof material cut or sewn to the size of your blanket
I had to cut my blanket down to fit my tablecloth, but you may need to sew together fabric to fit your blanket, so do what ever it is you need to do.  Lay the waterproof material with the wrong side up on flat surface with good amount of room for you to work.  Ten lay your blanket on top with the right side up and make sure that your blanket is 1½ inches smaller all the way around.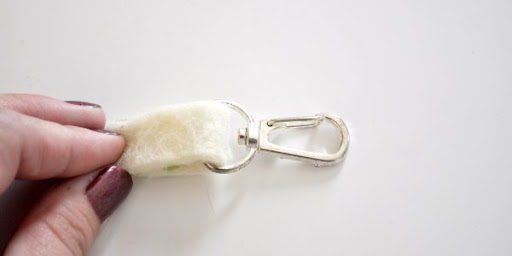 Take your clasp and thread a piece of fabric through as shown to make a loop.
Pin the material over the edge of the blanket and the key clasp where you would like it under that fold.  For the corners just fold the sides over first then the corner in pin.
On a short end of your blanket, find the center and pin your elastic under the fold as shown.
Now just sew around the perimeter using a zigzag or straight stitch. When you get to the corners make sure your needle is down, lift your pressure foot and rotate fabric.  You're done!
If you would like you can sew two lines down the blanket, short end to short end.  Measure so that this makes the blanket easy to fold into thirds.
To fold up just fold into thirds and wrap the elastic around the roll.  My elastic was long enough that I could wrap it twice.  I was surprised at how compact it was when rolled up, nice and compact.
There you have it!  No wet bums at the baseball field or park, no more losing your keys in the grass, and all for around $5.00!