With Valentine's Day less than a month away, I think we can safely bring out the Valentine decor, no?  Oh good, because it is one of my favorites to decorate for!  This garland is one that I made last year to hang from our wooden beam.  It's in Utah, we're in Arkansas.  Dang it.  So I will probably be making another one, only this year I think I will use paper instead of fabric, that way the kids can help in the fun.  It's the perfect rainy day craft.  All you need is paper, scissors, glue, some string and your set!
I should mention I was inspired by this garland on Pottery Barn.  So if you're not into making your own, you can buy it!
Diy Three Dimensional Heart Garland

Supplies:
Fabric or paper, whichever your preference
Heat bond (heavy) for fabric, glue or glue stick for paper
String for both hanging the garland and the hearts
Card stock or an old card
*If you are using paper, skip the fabric part.  I know you knew that, but it was worth mentioning ;).
Start by ironing your fabric to heat bond.  I had pre-cut squares so I just overlapped them a little on top of a large piece of heat bond.  If you are using paper you skip this step.
Next you want to cut the fabric into strips wide enough to fold in half and still make the size of heart you want.
Now take an old card or card stock to make a template for your heart.  If you don't want them the same size, you could skip this step and just start cutting out the hearts.  I wanted two sizes so I made two templates to cut around.
Just slide your template over the fabric folded in half and cut around to make your heart.
After you have them cut out take the back of the heat bond off three of the hearts.
Place one heart on top of another and fold half of the top heart on to itself as shown.
Now place the third heart on top of the other two so each half is connected.  Iron each half for a few seconds to secure heat bond.
Fold the heart in half to make a little hole, if you are using paper you could use a hole punch, then string yarn or ribbon through the holes.  I made a knot at the top so they would hang straight.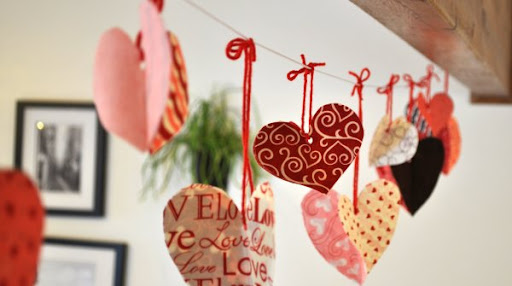 Now hang your string that the hearts will be hanging from.  Then tie the hearts on….you're done!  Don't you think they would look super cute over a mantel?  If only I had a mantel.  They would look great in a store front window too, just sayin'.
Here are a few that were made last year, and readers were kind enough to send pictures.  Have I ever mentioned how much I love getting pictures?  Totally make my day :)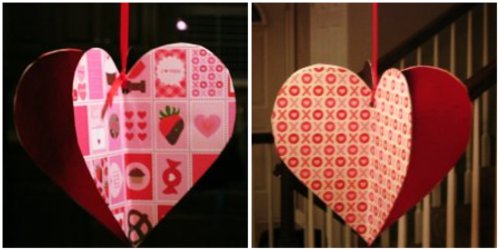 Tina made these with her little boy using paper, I had to share, they turned out way cute.
Cynthia left a comment mentioning how her kids made them with paper and hung them from her chandelier….so so cute!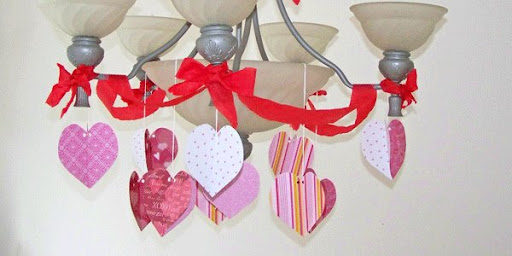 Thanks for sending me the pictures!
Elizabeth from My Crafty Nest made them into cupcake toppers, so clever.  Think I will be adding that to my list.
Looking for more ideas? Find most our favorites on our Valentine's Day Page.