Have you seen all the fabulous ideas around the internet?  Oh my my.  So many….too many to list, so I decided to show you a few of my favorites.  I linked the title and picture to the actual project post and the link to the home page of each site is in the description, did that make sense?  I hope so…enjoy!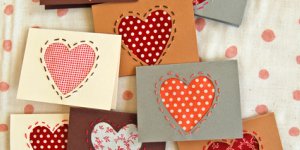 These fabric window Valentines from The Purl Bee are a perfect way to use your scrap fabric.  And the hand embroidery around the edges?  Well, you can guess how I feel about that.  So sweet.
It should be no surprise this next one comes from Design Mom, she always has the best ideas.  These little Valentines are made with Madlib's, perfect for boy's don't you think?  They have a little message that says 'you have mad skillz'.  Again, she has the coolest ideas.
These are Amy from New Nostalgia's take on Skip To My Lou's fun little Valentine pouches.  I love how she used stickers to put on the kids names.  They would be so easy to make both girl and boy friendly versions.  I'm pretty certain your kids would be the only ones showing up with these.
How cute are these little sunglasses from Mom Tried It, and how fun for the kids to make.  I love the idea, you could use it for so many holidays.  They would be cute with a four leaf clover for St. Patrick's day too.  Oh the possibilities….
Have you seen these?  I love it when the simplest of ideas turn out to be the best.  This paper heart garland from How About Orange is just that kind of idea.  It would be a perfect craft for kids, but really I could see myself doing this for fun, don't judge!
What's a Valentine if you don't have something to put it in, right?  Tiffany from Simply Modern Mom whipped these fun little mailboxes up, and even provides a pdf download for free.  Just imagine your little one sitting there at her desk amidst all the shoe boxes, thinking 'my mom is so cool for finding this'.
Simple, sweet, and oh so yummy looking.  I love these little hearts.  The Long Thread always has fabulous ideas, and they always seem to be the simplest.  Just the way I like them.  She also has a great roundup of Valentine finds, crafts, etsy goodies, you know, good stuff.
Have you been to visit Givers Log lately?  You really should…I'm addicted.  How cute are these little airplanes, perfect for little boys…and the tags…well they're cute and free.  She has a ton of other great ideas too, I had a hard time deciding which one to add to the roundup.
Okay,  I told you I had a hard time deciding on just one from Giver's Log…I had to add this one too.  I have never seen this idea before.  She did it with her kids too, you should see the one her four year old created, it's beautiful.  It would be a great gift for grandparents, teachers, me…..
Last but certainly not least are these cute little pies from Picky Palate.  They would be a perfect addition to your kids school lunches for a special Valentine treat.  Really any day, if your a cool mom like that.  Can you imagine the looks on their friends faces?  Especially if you send some for them too!
Great ideas, and really so many more…be sure to check out our Valentine page with links to all of our sweetheart day posts, there are some good ones!