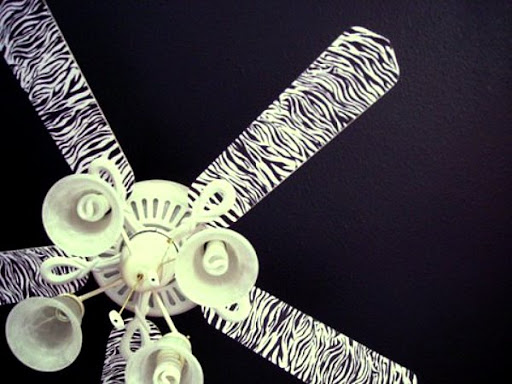 My daughter wanted to paint her ceiling BLACK yes BLACK, because we saw a room that had a black ceiling and red walls.  We got Dad's approval to paint the ceiling black and walls red but we wanted something a little more creative and fun for the existing ceiling fan.  I saw this idea on Get Your Craft On where she mod podged scrapbook paper on the underside of the blades, just what we needed!  At first we were going to do all the blades with different black and white paper but after doing a blade we decided on one paper-  zebra print.  This project was simple and fun .  My daughter who is 14 did most of the work of cutting out the paper then the two of us mod podged together.
You can go to Get Your Craft On for step by step instructions, and here are a few tips that we learned along the way.
DO-pick a print you can overlap just a little bit because our blades took two pieces of 12X12 paper
DO-use plastic under where you mod podge because when it drys it doesn't wipe up
DO-use s scrapper or straight edge to get the air bubbles out of the glue once you have applied the paper
DO-let the glue dry before you put a sealer on
DO-make sure you put equal amounts of mod podge on each fan blade so they will all be equal weight when you put them back up.  Same goes for the sealer.
DO-have a craft knife handy to cut off any paper that overlapped the edges of the blade
DO-keep all the fan blade crews and hardware in plastic baggy for easy to re-install
DO-love the results!!
I have some other fun projects coming from this room, so stay tuned!